Music + Pop Up Speakers, Waterfall, Premier Lighting,
SPECIAL OFFER DEAL
CANADIAN SPA COMPANY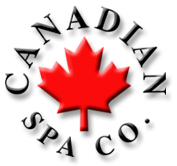 THUNDERBAY HOT TUB - RRP £9,995
EX DISPLAY PRICE - AN AMAZING £6,995 
Thinking about purchasing a spa and want all the features of a top of the range model but can't quite justify spending £8,000.. Then don't!

This is an amazing offer that you won't be able to beat anywhere, so if you're serious about buying a spa then you would be crazy to miss this deal.

We have available a limited number of New Ex Display Thunderbay Spas.

These are 6 person spas and are packed with the latest features and technology.

There may be the odd cosmetic mark or scratch and this should be expected, but other than that these spas are exceptional value and offered at a fantastic discounted rate
PLUS..
Special Bonus of Free Cover and Steps worth over £350!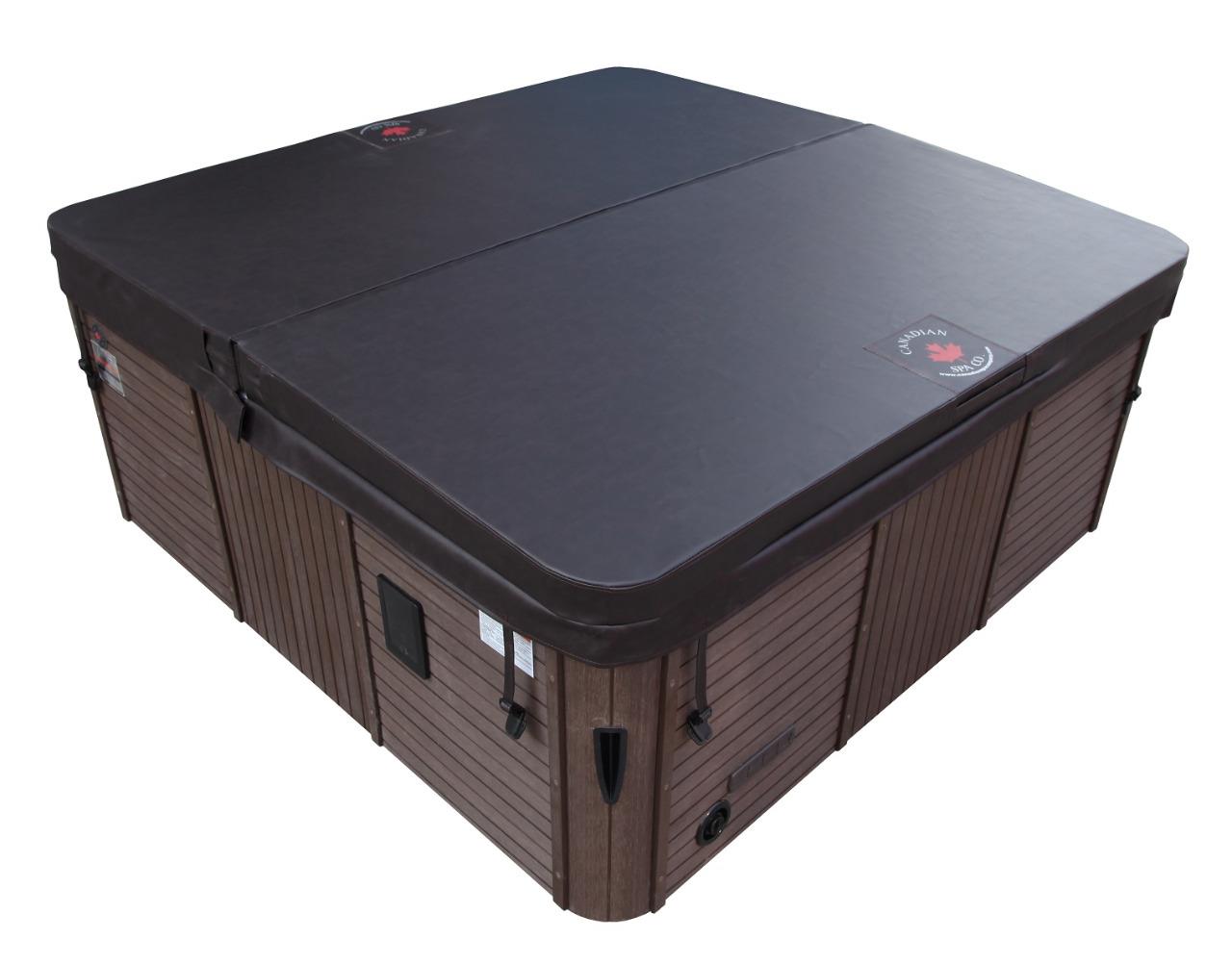 Overview
The Thunderbay is a stunning family, and entertainment spa with powerful twin 5 Hp pumps supply 10 Hp to the 44 adjustable hydrotherapy massage jets.
This system is controlled by 3 air diverters for concentrating water flow to various seats for a truly therapeutic muscle massage.
This 6 person spa features a full length body-form lounger, a deep seating captain's chairs and multi level seating to keep you up to your neck in hot water.
The spa is constructed from a triple layer Durra-bond system that creates a shell of incomparable quality and durability.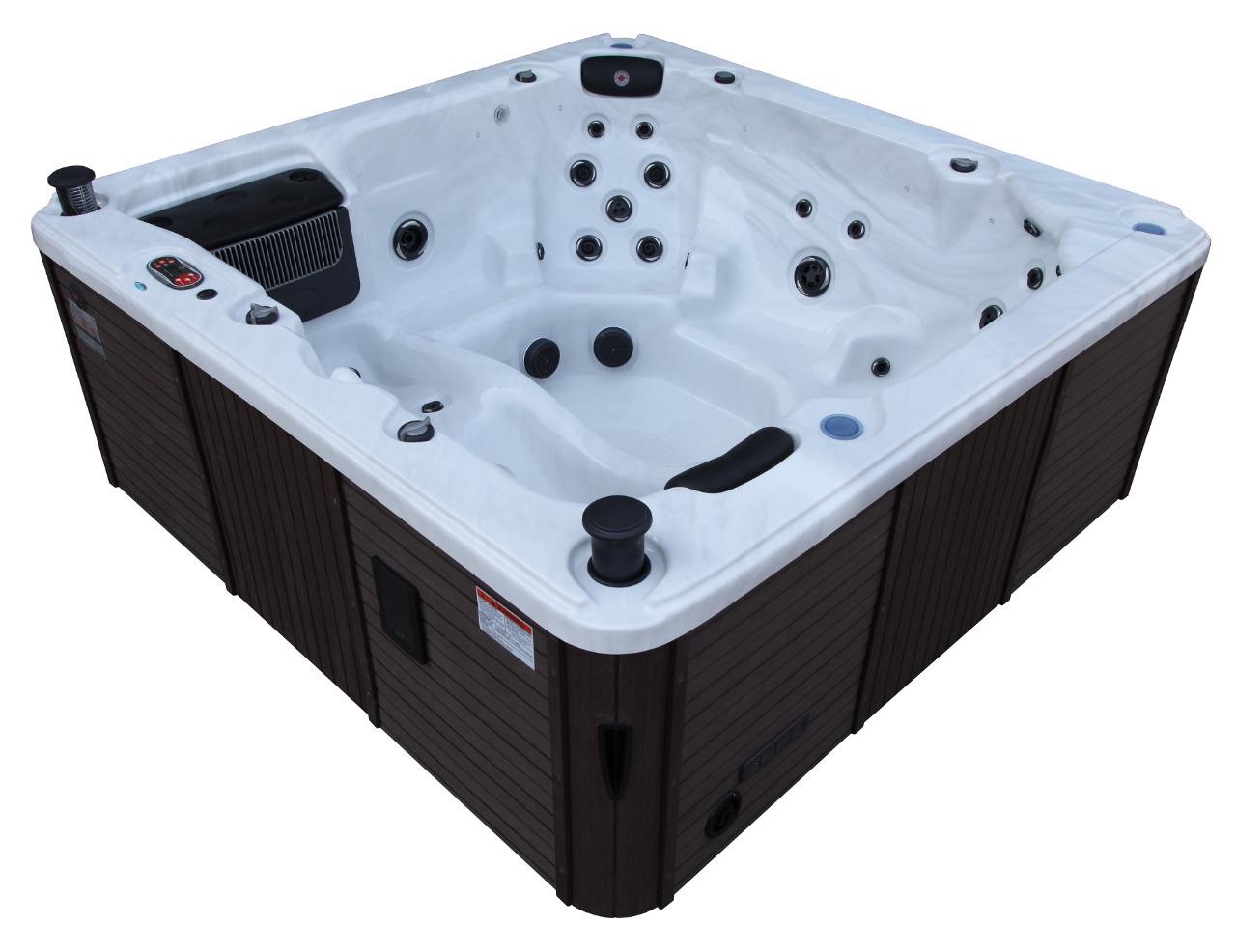 Specifications



Jet Features
The whole Family will enjoy the Thunderbay's 44 Large hydro-massage water Hurricane™ jets.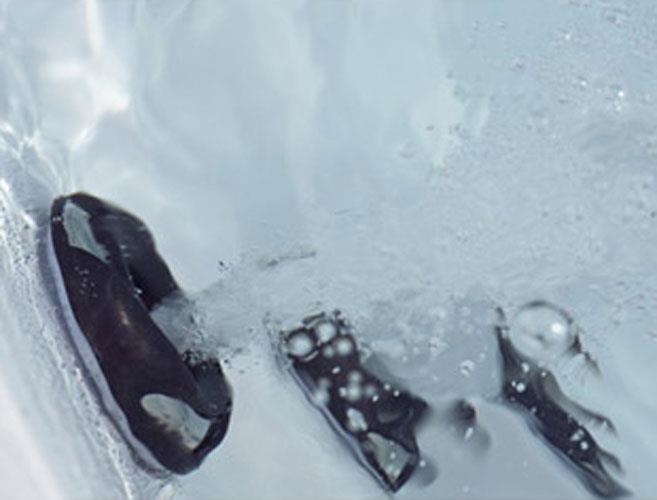 WhiteWater (WW) Jet delivery™ system
44 x Adjustable Hydro-Massage Hurricane water jets, stainless-steel accented (Anti-slip Arthritis friendly)
2 x 5Hp water pumps for deep high powered deep tissue massage
Oversized pipe work for increased power and energy efficiency
Tailored Air Controls (Venturies) for added pressure
Overclocked plumbing route (roughly 20% more power achieved through significant rebuild)
9 x shoulder and neck jets.
21 x back and lumber jets
4 x hip jets
4 lx eg jets
6 x foot and ankle jets
PLUS
3 x Air controls
Premium LED Lighting Package
Perimeter Multicolour LED Lighting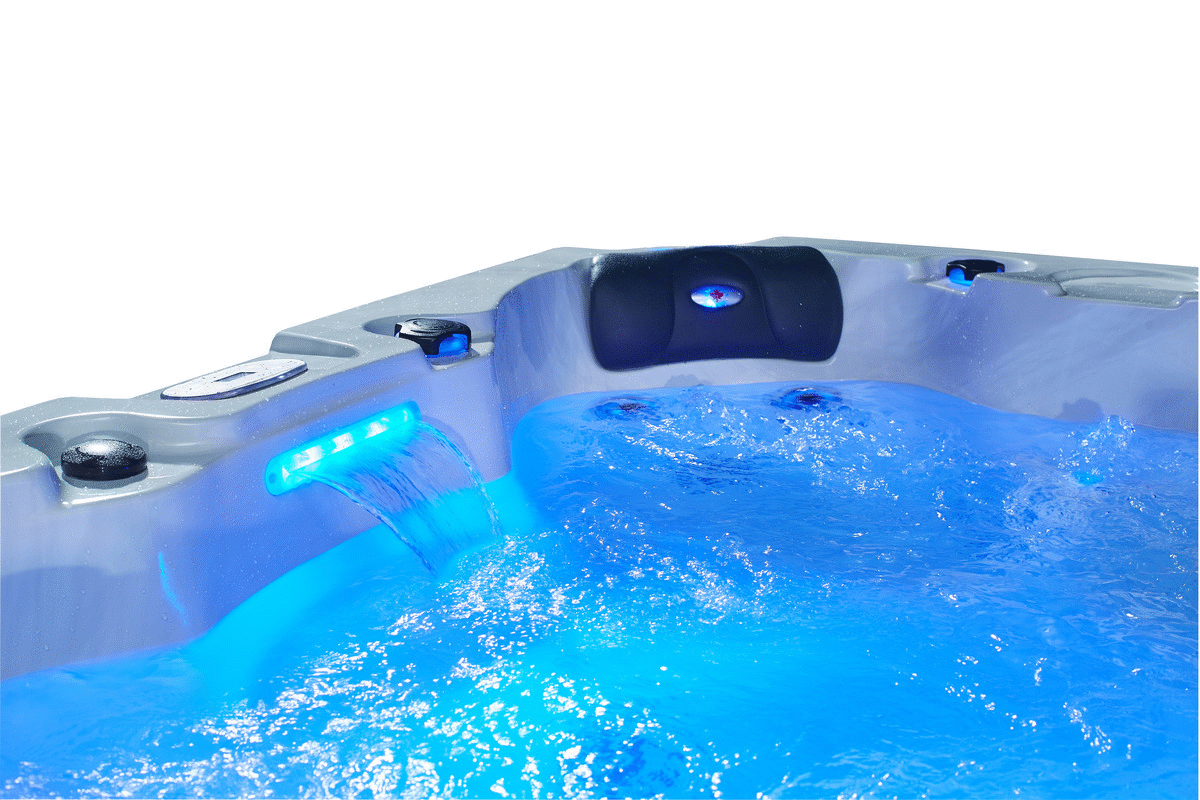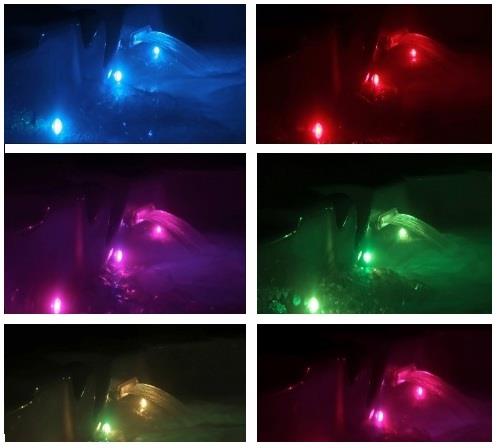 Large underwater Multicolour LED Light
Full Control over light settings on Control Panel
Guide-in LED lit recesses on the front of the cabinet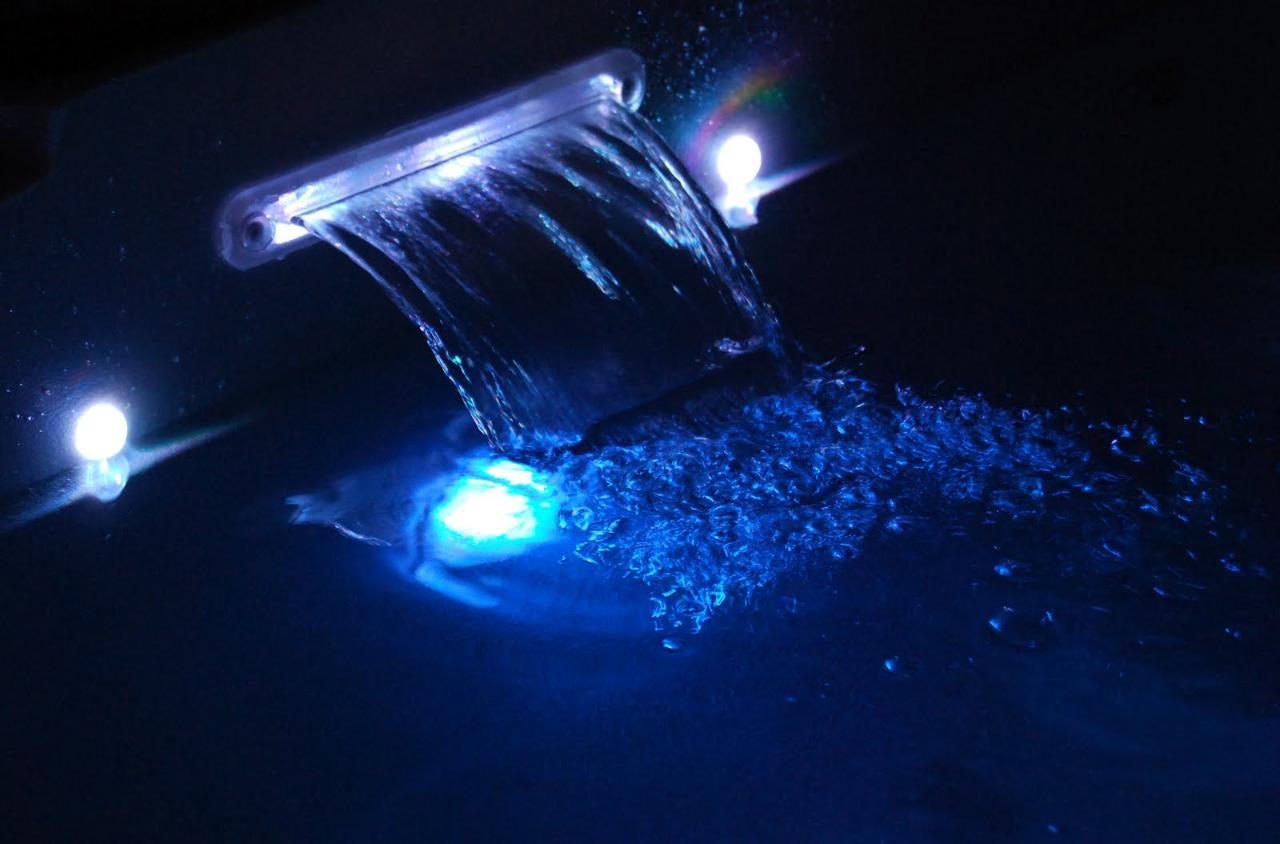 Multicolour LED backlit Cascading Waterfall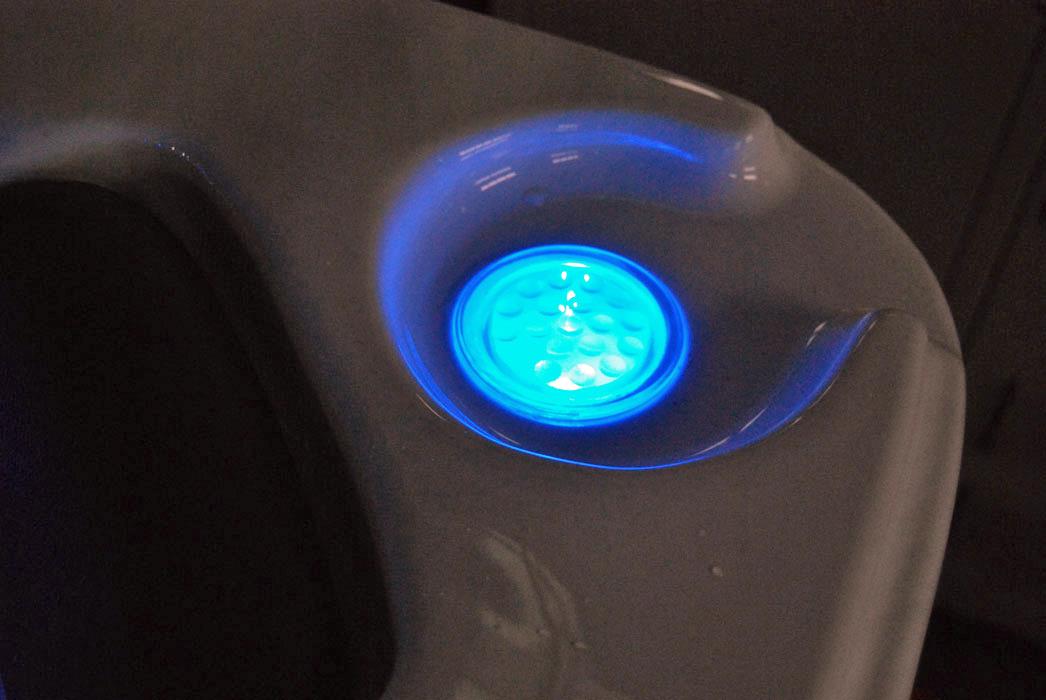 Multicolour LED Corner Cup Holders
CS HydroBASE Sound System™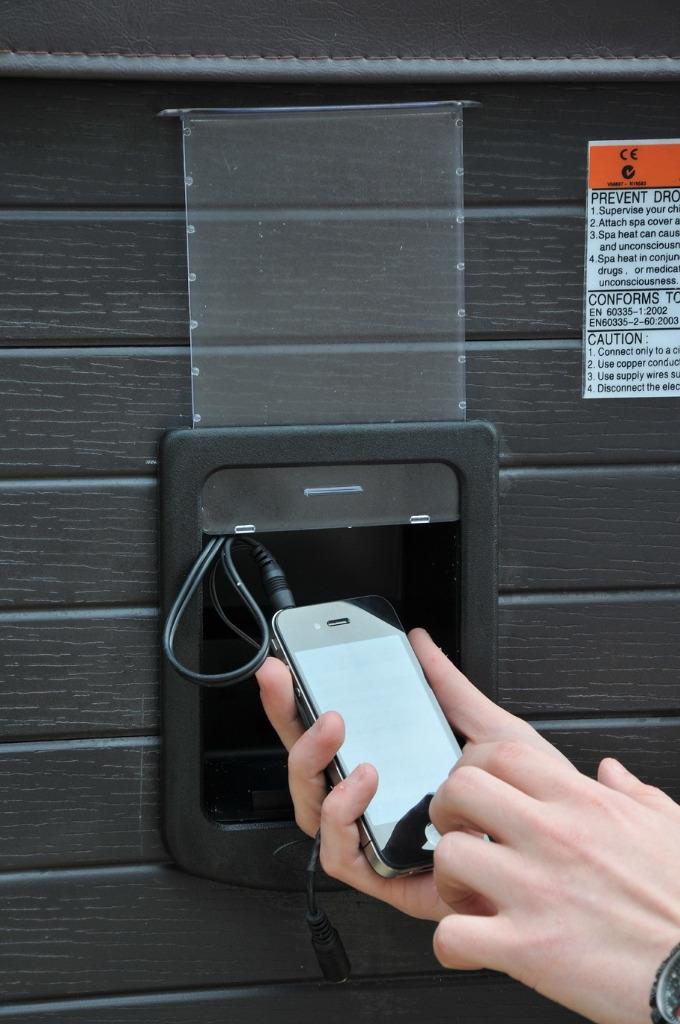 iPod/MP3 enabled music system
2 x Pop-up Water Resistant Retractable Speakers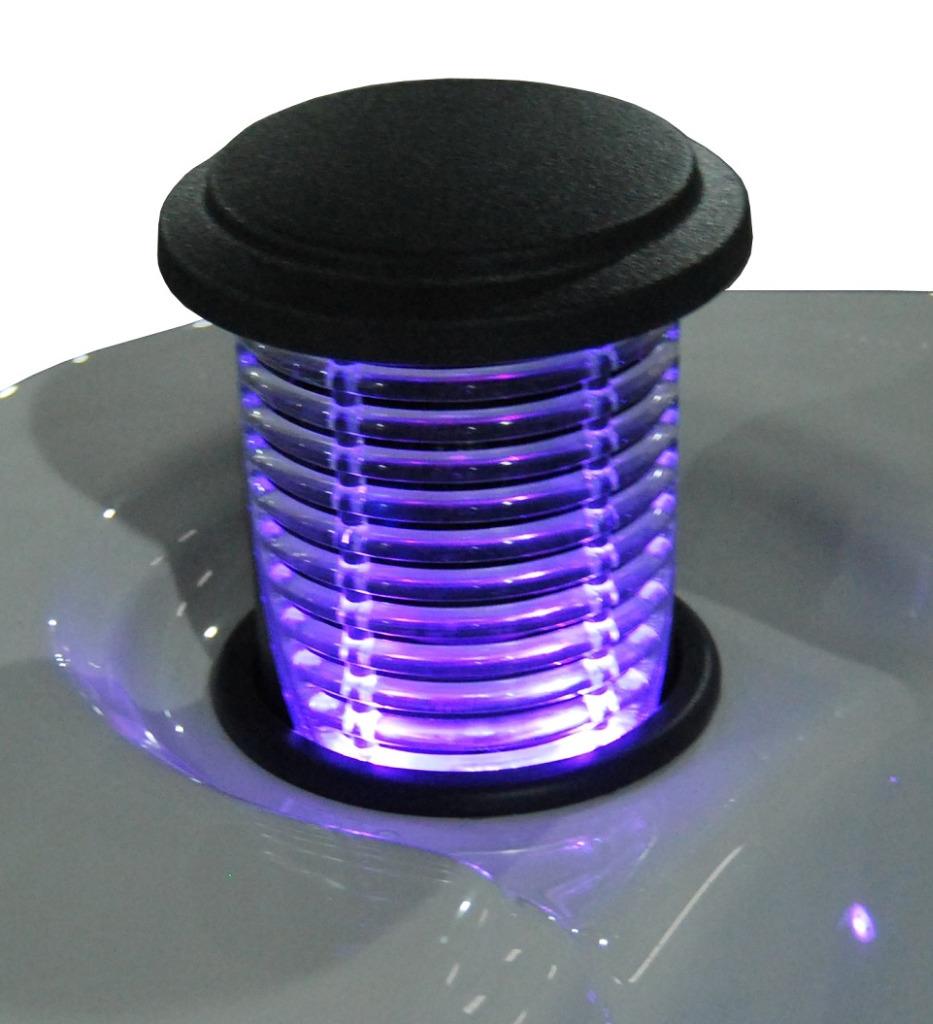 Slow-rise audio enhanced speaker system with LED lit backing
Built-in high fidelity amplifier delivering high volume with clear acoustics 
3.5 mm connection sockets compatible with most MP3 players (standard headphone jack)
Dedicated waterproof compartment to house your MP3 player (compatible with larger MP3/smart phones - phone not included)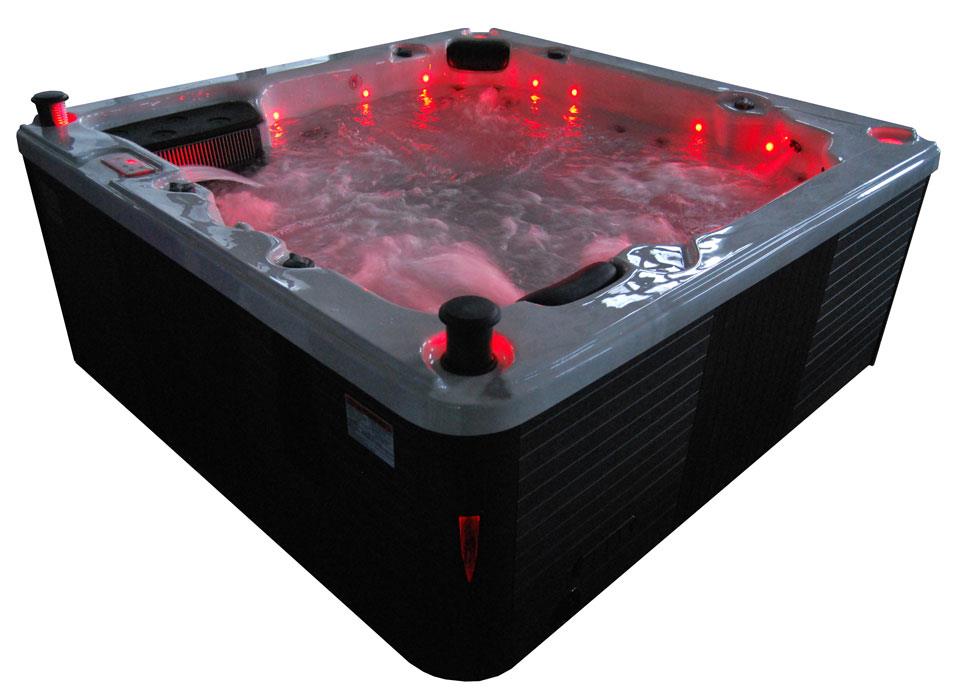 ThermalSprings™ Heat Reclamation System
3.0 kW Balboa heater with smart sensors (shuts off heater within half a centigrade)
High-quality tough triple layer insulation with IR reflection + thermal transfer blocker package on shell, cabinet and base
At the Canadian Spa Company we have developed the most efficient insulation and heat reclamation system available on the market.
Our unique system features a specifically foamed in cavity between the back of the spa shell and the spa surround for maximum heat retention. Our exclusive Heat Reclamation system uses air intakes located above the motors connected to a series of pipes that are in turn connected to the main water pipes in the spa.
When the motors are running the heat is drawn off the motors and injected directly into the water; this guarantees maximum transfer of motor heat to the water and protects the equipment from freeze up. The result is a spa with the most efficient heat reclamation and retention system of any spa on the market.
State-of-the-Art Balboa Controls and Processors
Processor: Balboa GS system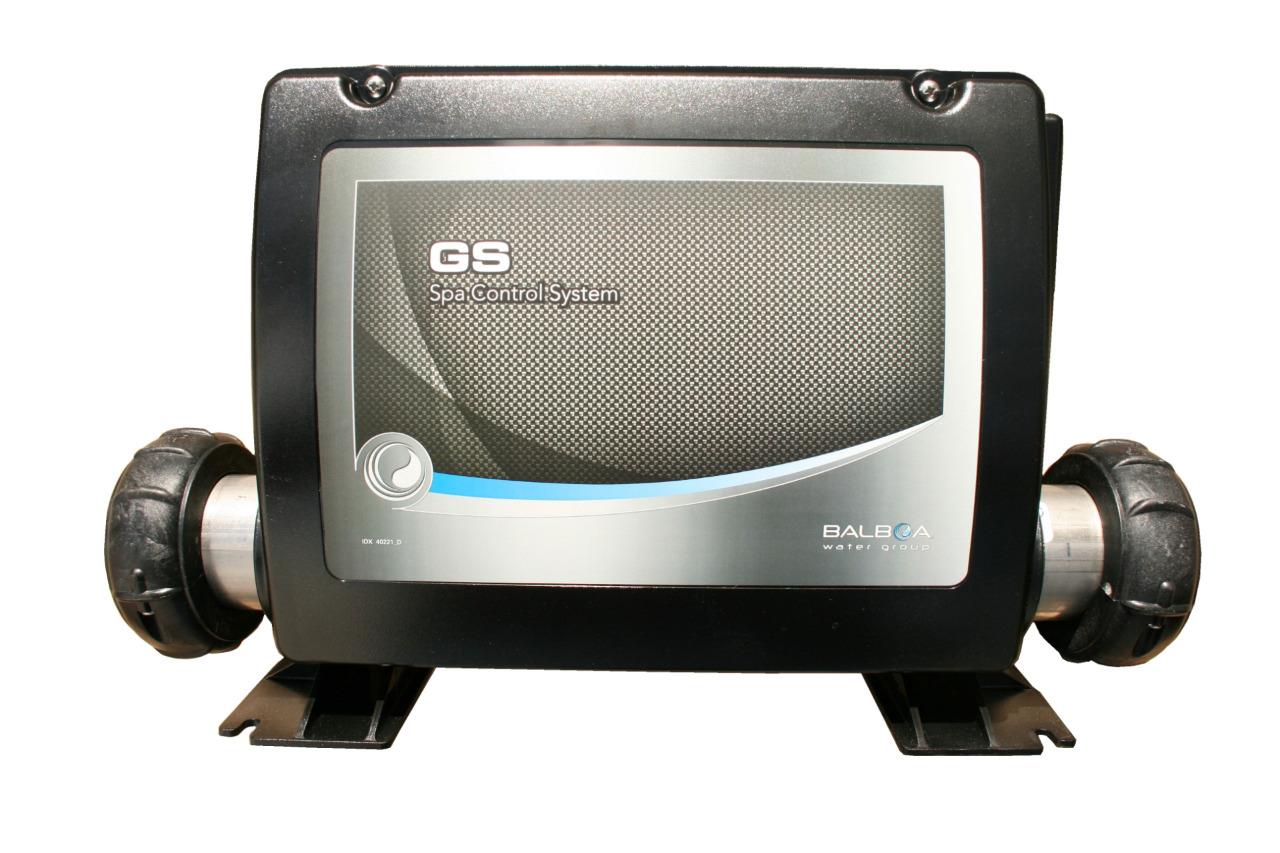 Digital Balboa M7 controls integrated with innovative CSC MapleBlurr™ overlay pad.
Advanced Balboa Pack technology to give you reliable and speedy performance.
XL intuitive control panel makes operating your spa a dream.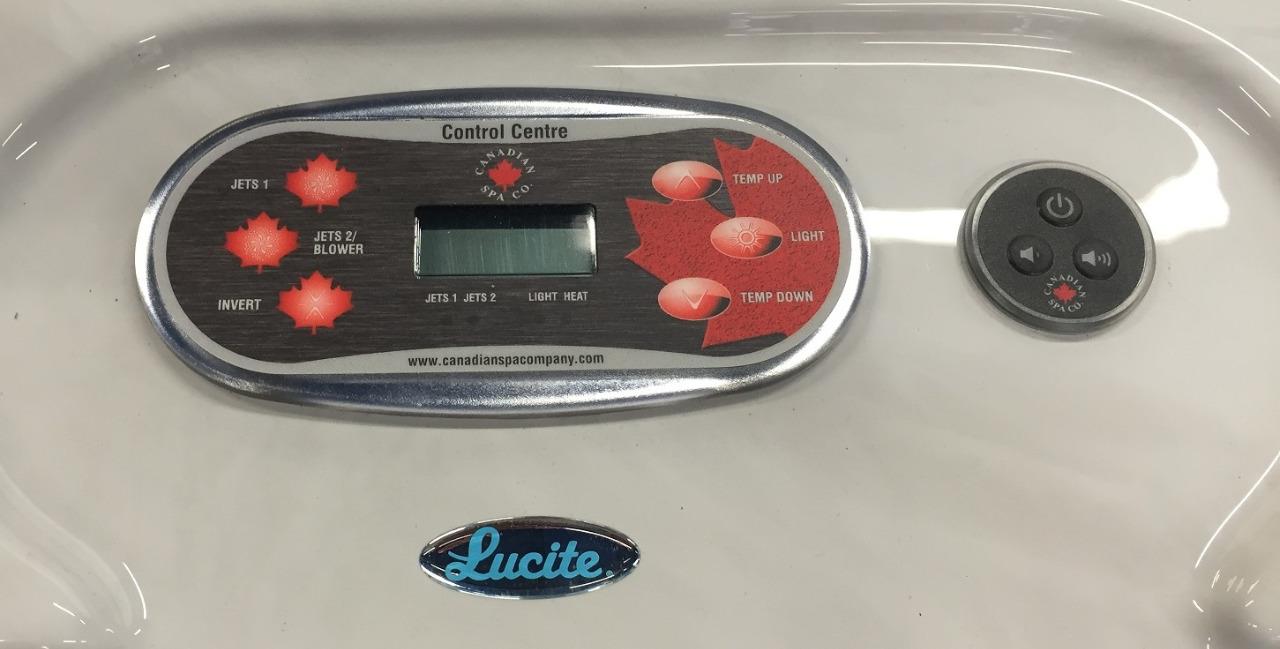 10 HP Water (2 x 5HP) Pumps
Quiet and powerful 2 x 5HP pumps provide consistent water pressure throughout the spa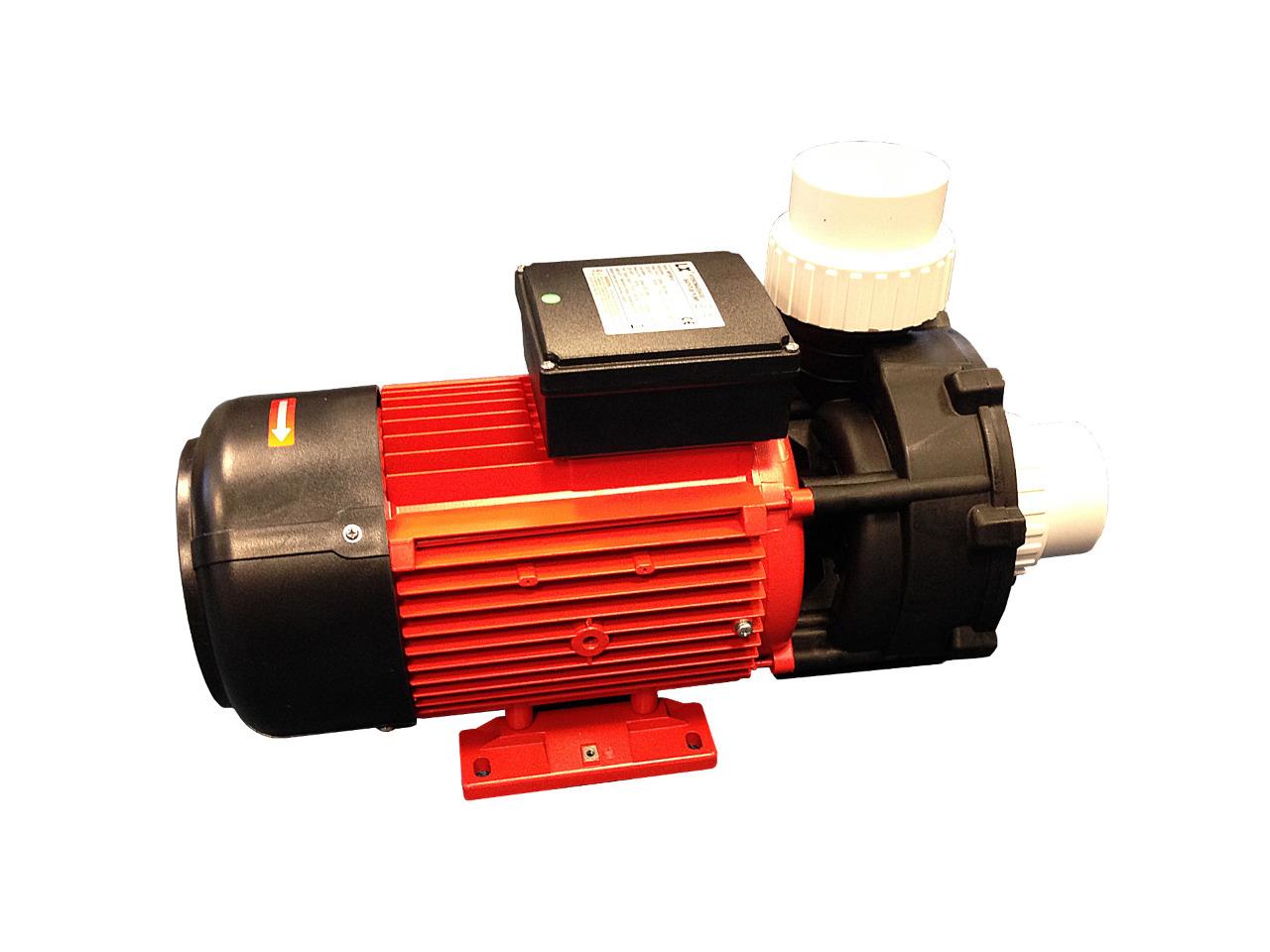 Providing high powered deep tissue massage
Lucite Microban™ Acrylic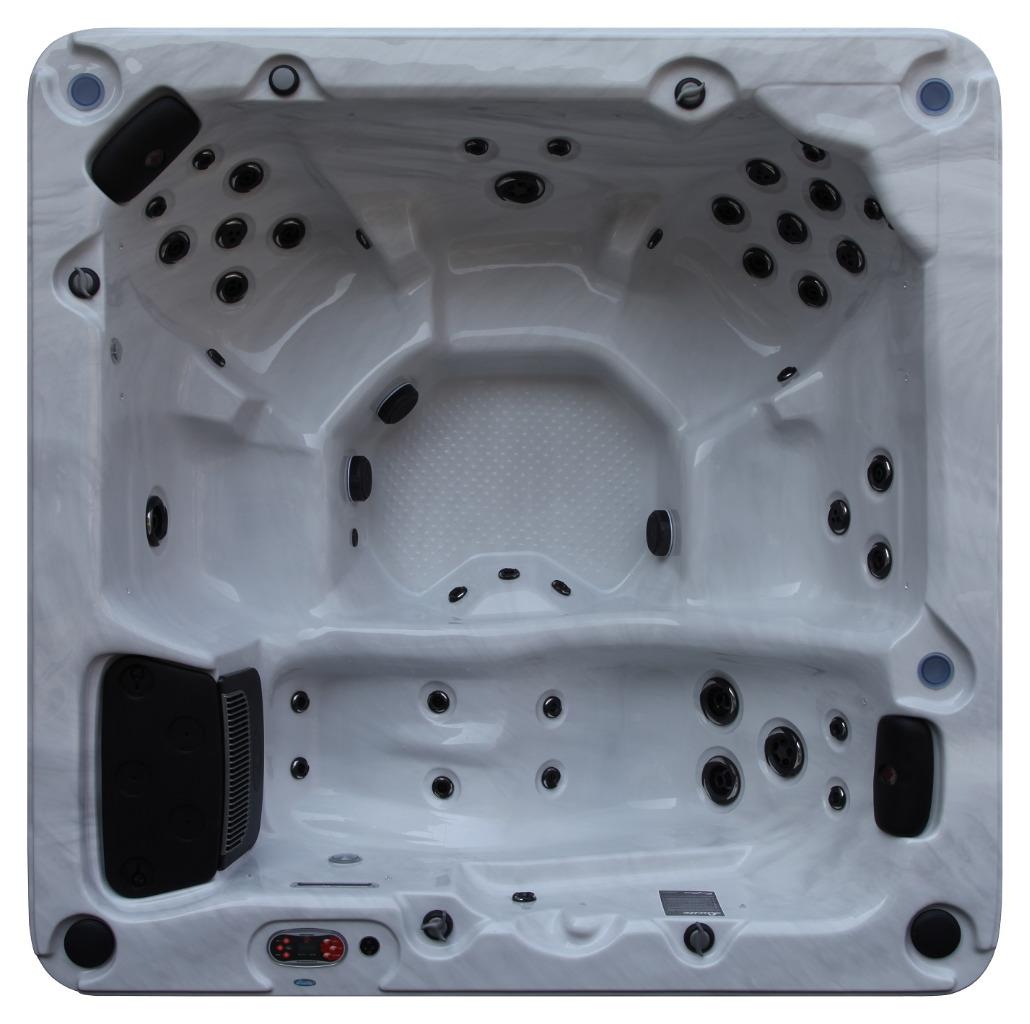 Microban® antimicrobial product protection to help prevent the growth of stain causing bacteria on the surface of the spa and lasts the lifetime of the spa
Advanced MountainPure™ cleaning system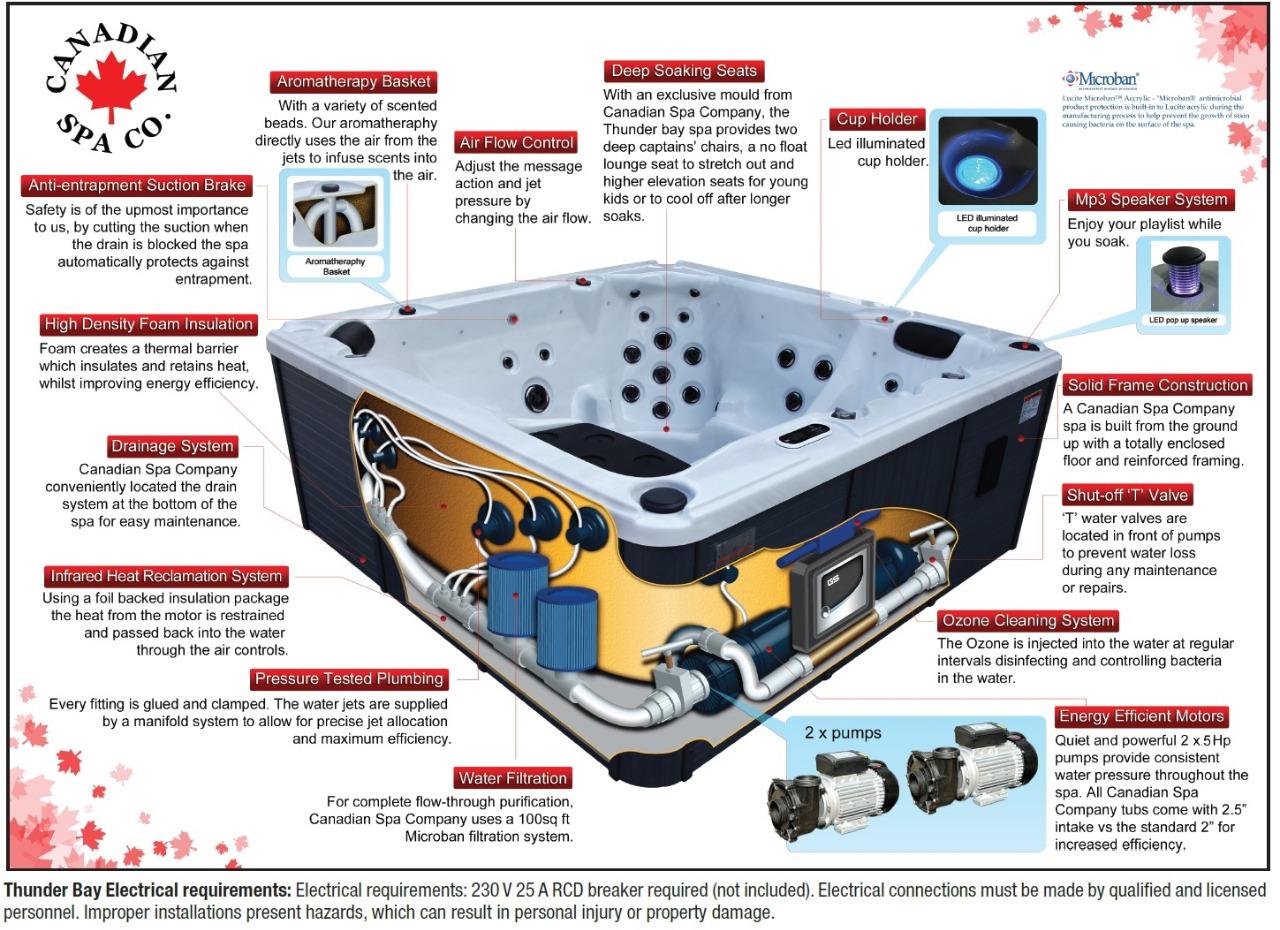 The Thunderbay features a state of the art MountainPure water quality management process and Ozone water purification system.
This advanced feature purifies water using activated oxygen, reducing the amount of chlorine needed.
WARRANTY
Canadian Spa Co. warrants the equipment pack (pump, blowers, heater, and control system) against malfunction and defects in the materials and workmanship for Two (2) years from the date of purchase to the original purchaser. (These models have not been pre-sold so you will be the original purchaser)
When purchasing the full installation package (option 4) the equipment pack warranty is upgraded to an on-site parts and labour.
PAYMENT
All major Credit Cards accepted - Paypal - Cash - Bank Transfer
If you are not able to collect or accept delivery within 7 days of purchase please arrange payment beforehand
DELIVERY - COLLECTION OPTIONS
Option 1. Buyer Collection: Free Of Charge using own transport from our warehouse at Canadian Spa Company, Canada House, The IO Centre, Salbrook Road, Salfords, Redhill, Surrey, RH1 5GL
Option 2. Kerbside Delivery £299 UK Mainland - Delivery to Kerbside outside of house, customer must provide help with unload. (Typically used when crane is required or customer has the tools to install the spa themselves.)
Option 3. Delivery from warehouse and delivered to customer put into position (no help required) £475 UK Mainland - (Typically used if customer is in the process of a building project and does not need the spa connected straight away.)
Option 4. Delivery, Full Position, Commission, Install, Accessories installed & Maintenance tutorial £799 Uk Mainland - Delivered from our warehouse to customer (no help required) then fully installed and commissioned + Includes CHEMICAL KIT worth over £100 (Please note: a 32amp power supply must be in place to connect to)
IMPORTANT DELIVERY INFORMATION
IT IS THE CUSTOMERS RESPONSIBILITY TO ENSURE FULL ACCESS IS AVAILABLE WHEN POSITIONING THE SPA INTO ITS FINAL LOCATION.
CAREFUL CONSIDERATION SHOULD BE GIVEN TO GATE OPENINGS, OVERHANGING GUTTERS AND TAKE INTO ACCOUNT TURNING POINTS OR STEPS.
WE ARE HAPPY TO ADVISE CUSTOMERS ON THE MINIMUM ACCESS REQUIRED, HOWEVER WE CANNOT BE HELD RESPONSIBLE IF THE SPA WILL NOT FIT INTO ITS FINAL LOCATION DUE TO LACK OF ACCESS OR OBSTRUCTION
PLEASE NOTE THAT A 32 amp POWER SUPPLY MUST BE IN PLACE TO CONNECT TO.
NEED ANY ASSISTANCE JUST GIVE US A CALL: 01293 824 094
---