---
---
Out of stock. If ordered now, your spa will be placed on back order and sent out as soon we receive the next container with stock - due end of May.
Please consider the next models up of which we have limited stock. All five use hydrotherapy jets for massage rather than the air jets on the Swift Current V2 and are much more durable than portable spas.
Saskatoon (Click Here) - Out of stock
Swift Current V2 COMBO Package Deal
COMBO DEAL OFFER
£1995.00
!
 

<

SWIFT CURRENT V2 + THERMAL HARD COVER + STARTER CHEMICAL KIT + FREE DELIVERY TO MAINLAND UK
COMBO DEAL SALE - LIMITED NUMBER AVAILABLE

THESE SPAS ARE THE ALL BRAND NEW LATEST VERSION AND COME WITH A FULL IN-HOUSE 12 MONTHS WARRANTY

DELIVERY IS FREE OF CHARGE TO UK MAINLAND POST CODES ONLY. PLEASE CONTACT FOR DELIVERY QUOTE IF OUTSIDE THIS AREA. DELIVERY WILL BE TO THE KERBSIDE BUT AS THE SPA IS MODULAR YOU WILL BE ABLE TO TAKE IT PIECE BY PIECE TO THE FINAL LOCATION WITH 1 OR 2 PEOPLE.
2020 New Model Swift Current V2
Thermal Hard Top Cover
Starter Chemical Kit
Swift Current Hot Tub Info 
Plug & Play - Only requires a standard 13amp household plug socket

29" depth for full body and shoulder hydro massage - a proven way to relax aches and pains

5"deep high-density insulating PE Foam

Easy to set up and move anywhere

Suitable for use year-round

Can be used anywhere with a flat surface - excellent

 

for gardens, patios, summer houses or camping

Ideal for Home, Holiday, Parties and Hire
The Swift Current offers high end looks and versatility for all the family to enjoy! The superb strength brings you all the benefits of a rigid spa while maintaining portability.
The warm water and air massage bubbles create the ideal atmosphere to promote self-healing and relaxation.
The Swift Current is the perfect solution for when property access is an issue.

Get a Swift Current Hot Tub today!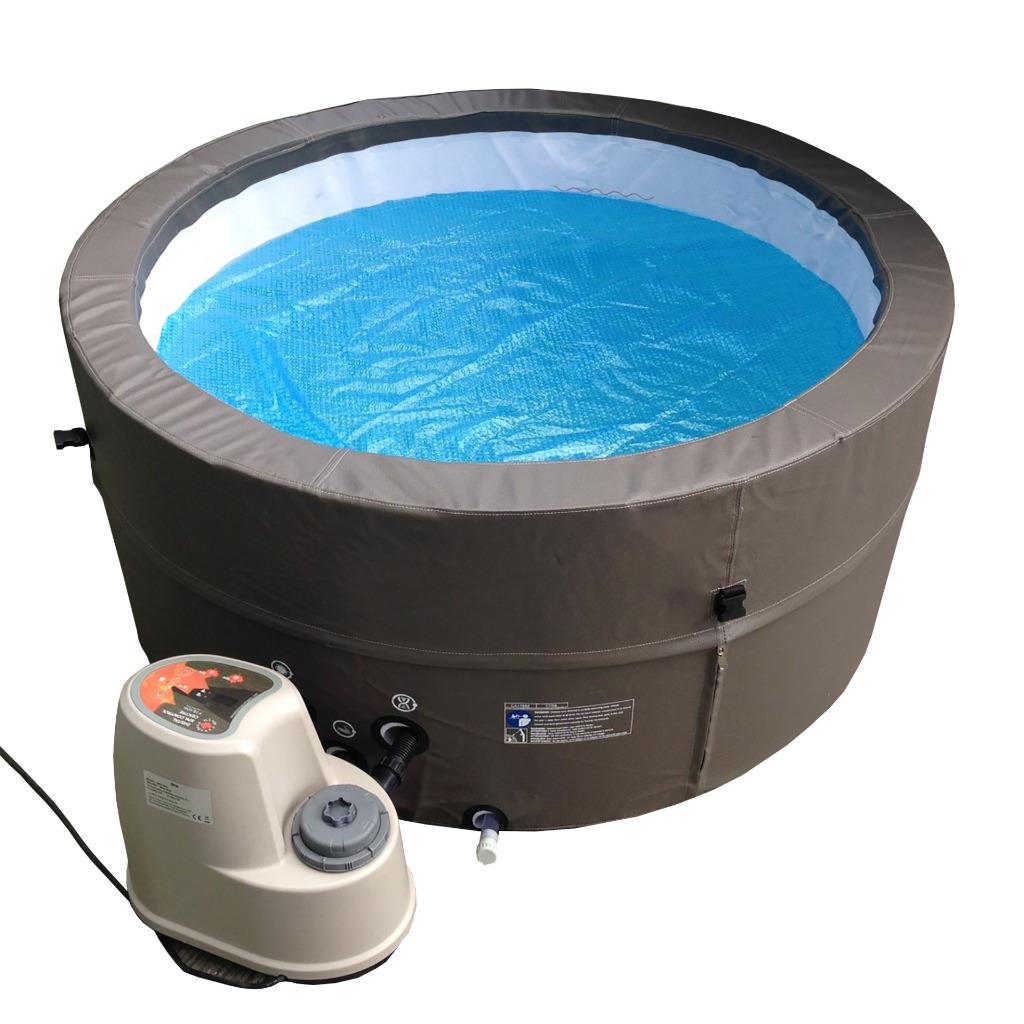 6" Thick Lockable Inflatable Cover With 6" Insulating Skirt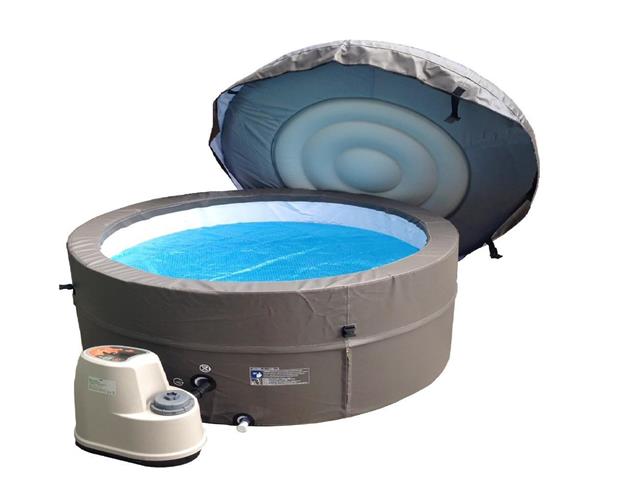 Microban Filters: Microbial Protection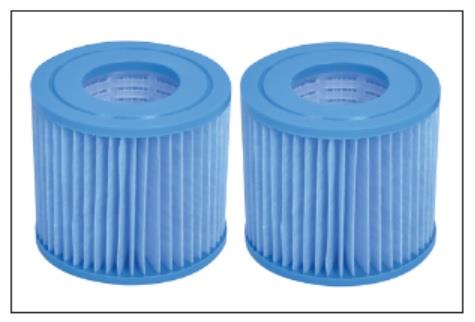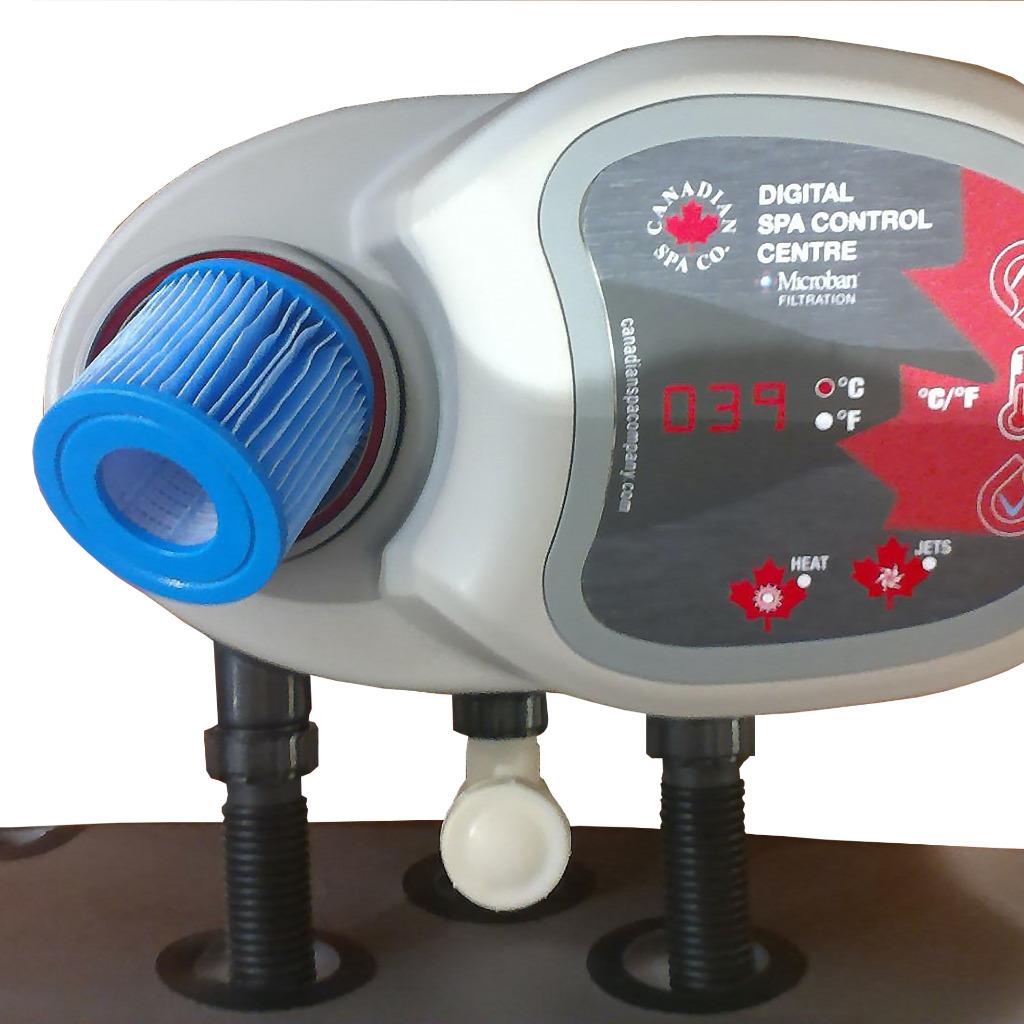 THE VERY LATEST IN FILTER TECHNOLOGY
Natural silver ions prevent harmful bacteria from building up on the filters 
Removes the impurities within the water 
Inhibits the growth of bacteria and mould 
Keeps your water cleaner and safer longer 
2 free Microban filters supplied 
INCLUDED: Aromatherapy Kit & Scent Cartridge

CALMING AND RELAXING
Fills your entire tub with a light soothing scent 
Kit simply connects to your control unit and insert the fragrance cartridge 
Beads come in an easy fill cartridge  
Free cartridge supplied with aromatherapy kit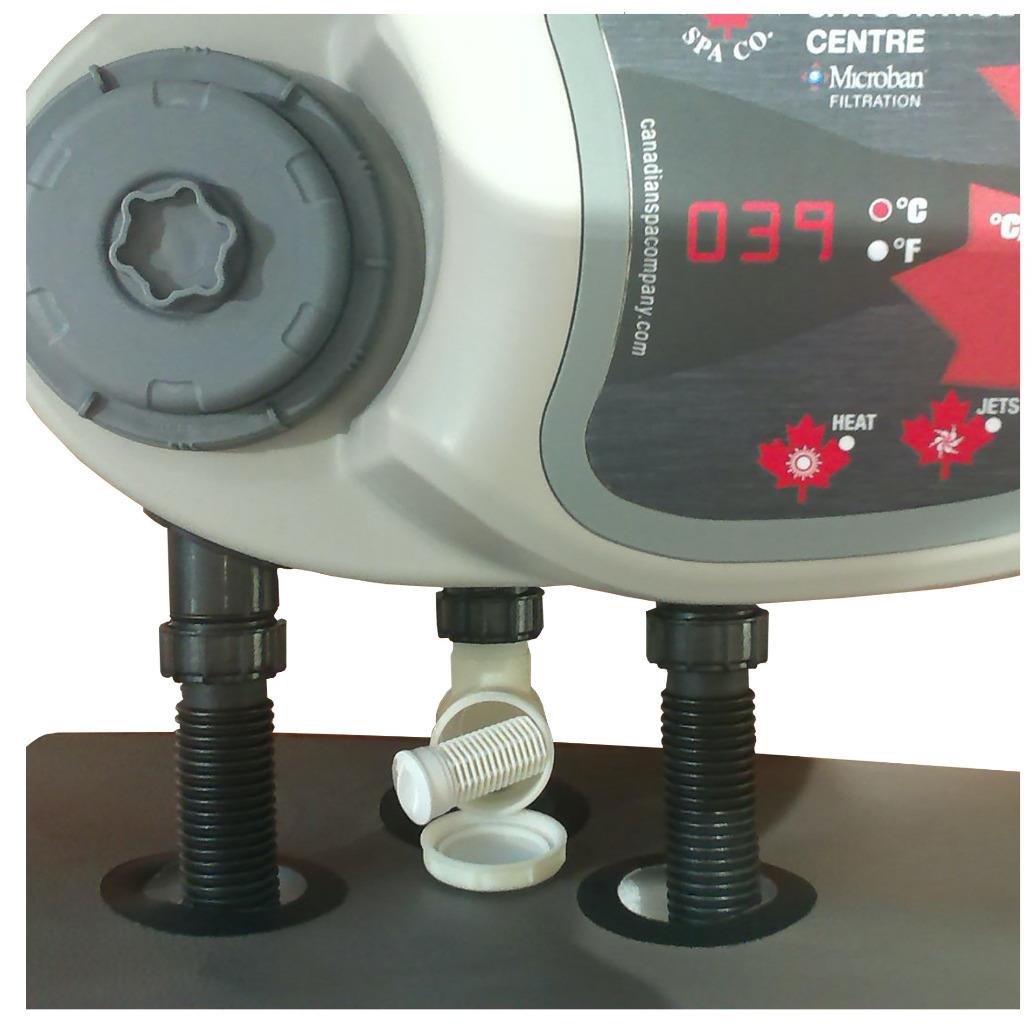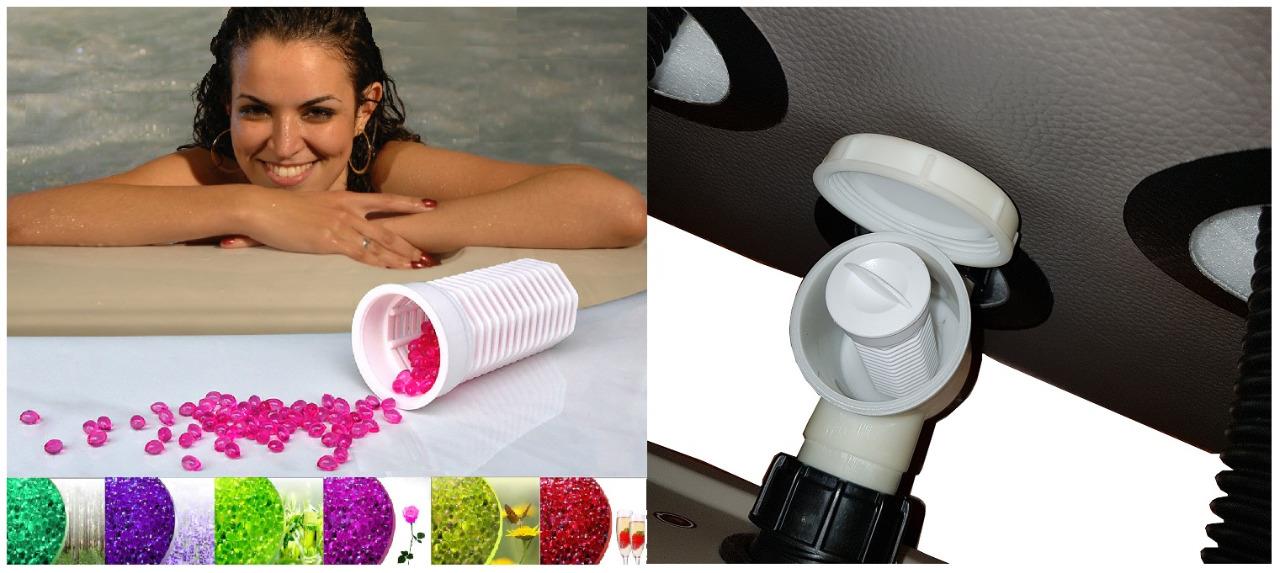 Latest Technology 3 Speed Control Unit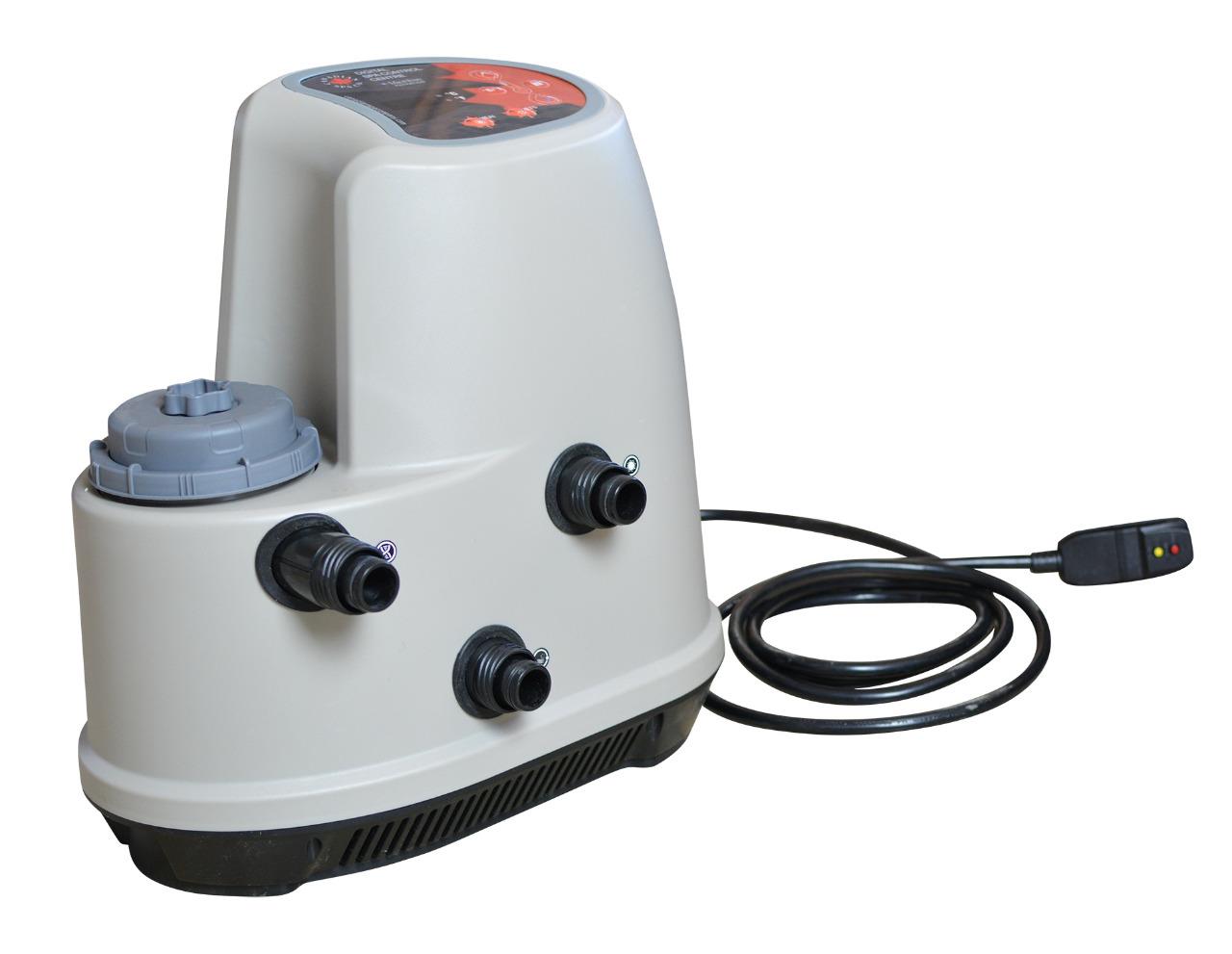 3 massage speed jet function 
Secure seal filter housing to ensure smooth running 
New design air valve for super quick air release 
Lock feature 
Easy to read control panel 
7 meter lead fitted with RCD protector 
Right angle plug lays flat against a wall 
Larger wire diameter especially designed for hot tubs 
7m / 20' lead removes need for dangerous extension cords 
No expensive fixed electrical installations 
Plugs directly into a standard 13amp socket 
Shark connectors for secure fitting - no arc connectors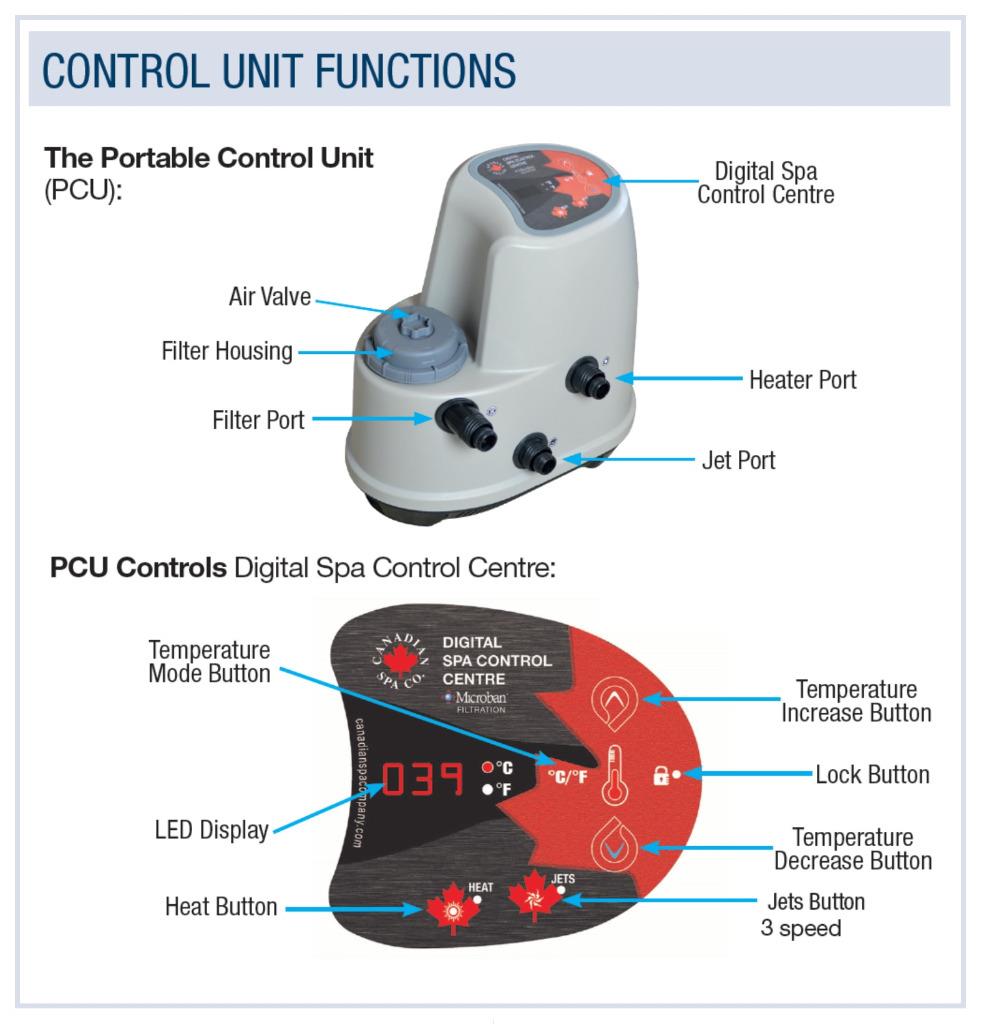 Extra Thick Floating Thermal Blanket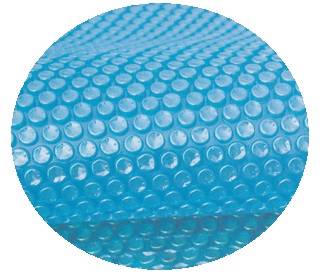 Place it on the water line to keep you hot tub better insulated 
Reduce running costs 
Speed up the heat-up time 
Specifications

Swift Current

Seating capacity

4 Adults + 2 Kids

Spa Dimensions (lid included)

70"x 38"(180cm x 97cm)

LID: 70" x 6"(180cm x 15cm),

SKIRT length: 6"/15cm

Spa Dimensions (without lid)

OUTER: (lid included) 72"x39"(184cm x 97cm)




INNER: 63"x29"(160cm x 74cm)

Weight

Net Weight 72kg - Gross Weight 76kg

Water capacity

220 gallons / 1000 litres

Spa internal material

Polyester Laminated PVC, PE Foam

Spa external material

Reinforced heavy duty vinyl & artificial leather

Jets

125 air jets

Pump

Circulating pump - continuous duty

Massage Jet Pump

500W turbo air blower

Heater

1940W - Max heat temperature 39°C/103F

Heating efficiency (Ambient temperature is 20°C/68°F)

1.5-2℃(°F) /hr

Filtration: Filter Pump

Pressure filter with replaceable filter media : 30W

Control panel

Digital control system

6" Safety Spa Cover

Lockable 6" inflatable spa cover

Electrical

220-240V / 50 Hz - 13amp plug and play

Step

Not Included

Cover Lifter

N/A

Warranty

12 months warranty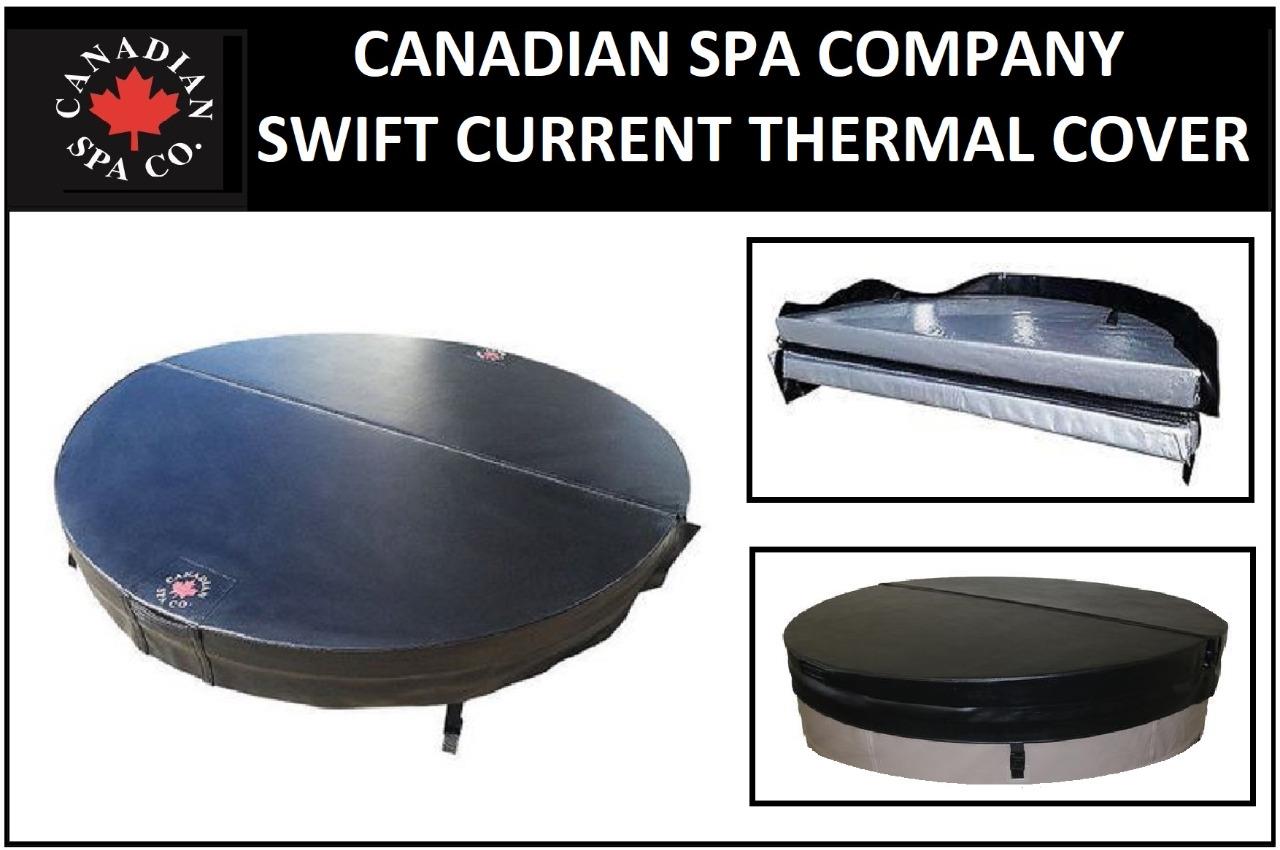 SPECIFICATIONS
5" > 3" Quality Ratio - 5" Core insulation thickness for top rating and 3" taper for rainwater run off.
Foam Thickness: 5" 1.5 LB foam / Type II (2) - Expanded Polystyrene Insulation.
Always look at the density or thickness of your cover before purchase. For example, a
 flat 3" density cover will provide poor insulation and rainwater may pool on the surface.
Our Canadian manufactured 5/3 ratio covers offer superior insulation and subsequent energy savings.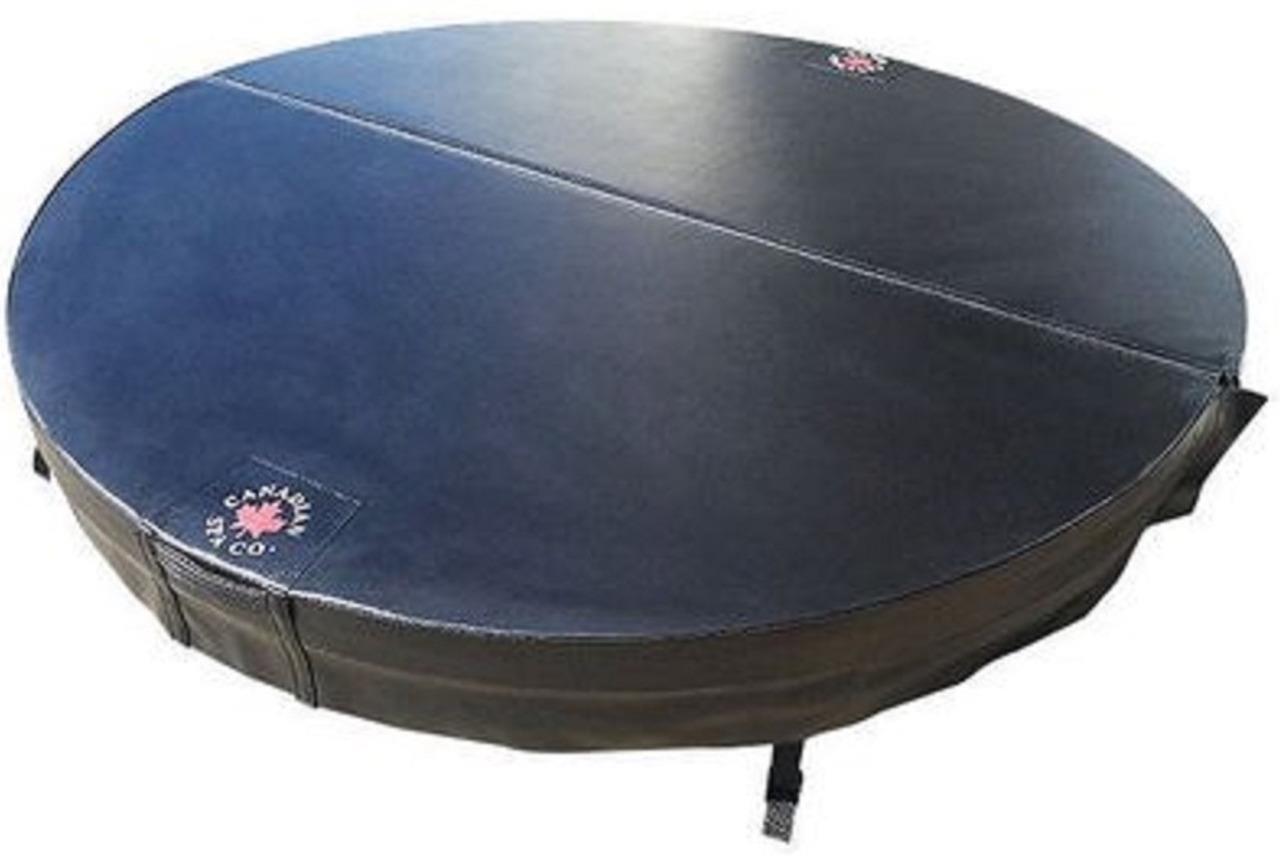 Starter Chemical Kit: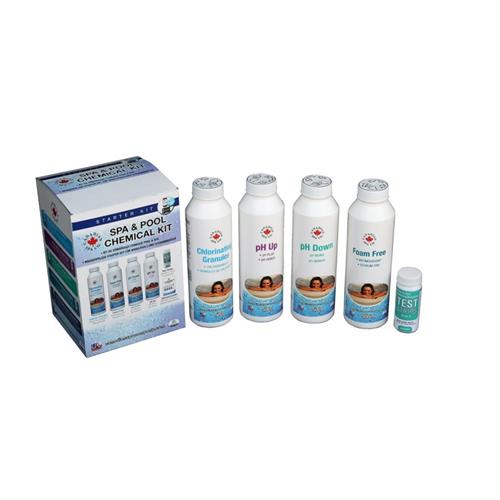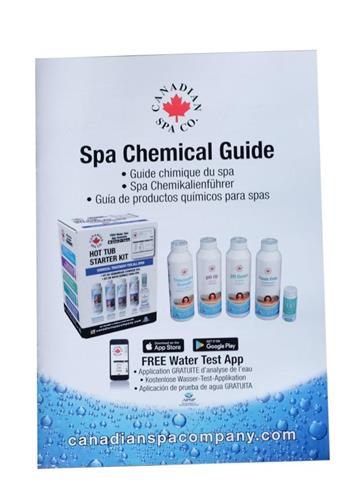 The perfect chemical kit for all portable and inflatable hot tubs.
Each component of the set comes with easy, simple to use instructions.
Our free Canadian Spa Water Test App provides a hassle free solution to maintaining your spa - available on the App Store and Google Play.
Canadian Spa provides a dedicated, friendly UK customer support team to assist you with any queries you may have.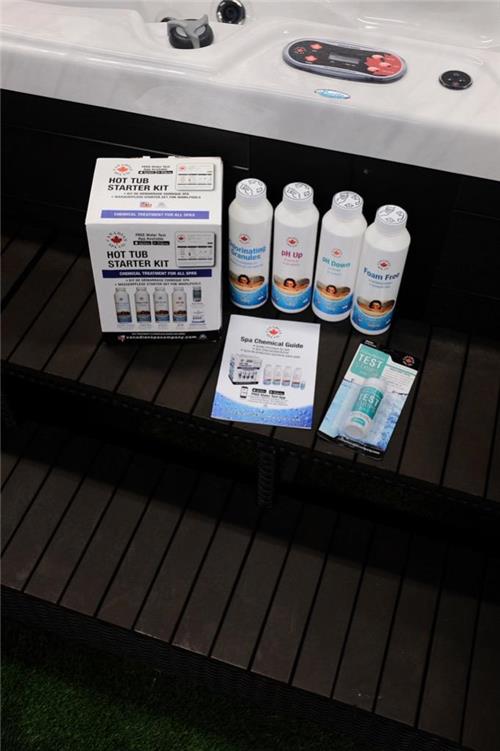 What's In The Box: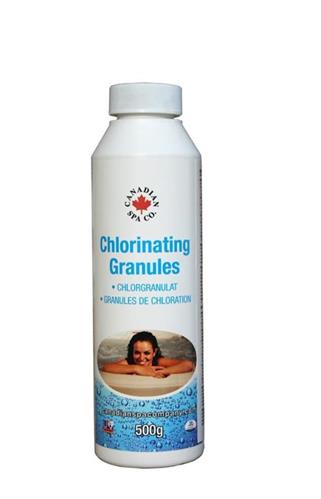 1. Maintain recommended daily levels as determined by testing kit. Free available chlorine: 3.0-5.0 ppm; pH: 7.2-7.8; Total Alkalinity: 100-120 ppm; Calcium Hardness: 150-200 ppm.
2. Superchlorinate a freshly filled spa by adding 20g of chlorinating granules per 1000L of spa water. Maintain water circulation for at least 15 minutes before using. Repeat superchlorination procedure after each use period.
3. Maintain proper chlorine residual by adding daily, 10g of chlorinating granules per 1000L of spa water, or as needed.
4. Persistent foam formation, turbid or malodourous water are indicators of inadequate sanitizer levels. To correct such conditions, superchlorinate spa water by adding 30g per 1000L. Maintain circulation for at least 30 minutes and wait 4 hours before using.
5. Chlorinating granules contain stabilizer (cyanuric acid) which will accumulate in the spa water. Keep stabilizer within the 30-100ppm range by dilution with fresh water.
6. For proper sanitation, spa must be completely drained periodically. The number of days between COMPLETE SPA DRAINAGE is equal to the volume of spa water in litres, divided by 10 times the maximum number of daily spa users. Refill spa with water and repeat DIRECTIONS FOR USE.
7. Maximum spa water usage temperature is 40ºC. Duration in spa water at 40ºC should not exceed 15 minutes.
 
pH UP (500g)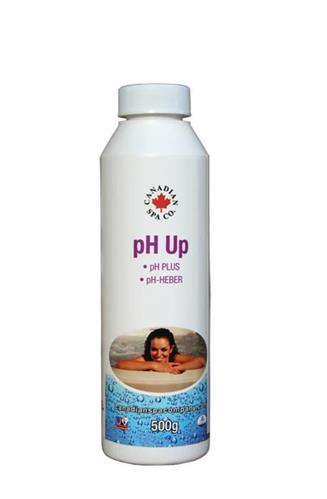 Proper pH balance is an essential part of spa maintenance. The recommended range is 7.2 to 7.6.
If the pH of your spa is low, (below 7.2) the water will be acidic. Discomfort from skin and eye irritation could develop. This condition also causes chlorine to become unstable, and therefore less effective in killing bacteria & algae, and in disintegrating organic matter.
Test water daily for pH and bromine/chlorine levels.
When test readings indicate a pH below 7.2, follow the instructions on the bottle.
pH Down (500g)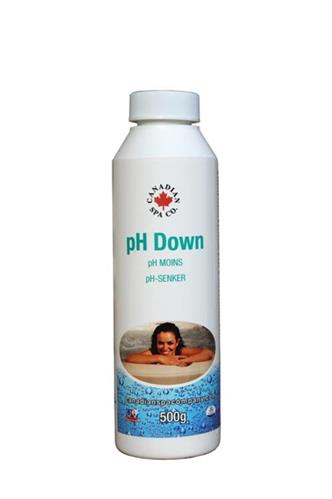 If the pH of your spa is high, (above 7.6) the water will alkaline. The chlorine will be ineffective as it combines with other materials in the pool water. This is usually detected by a strong chlorine odour, which is not found when the pH is in balance. The water may become cloudy and eye irritation may develop. Scale build-up may also begin to occur.

Test water daily for pH and bromine/chlorine.
When pH reading is above 8.0, add 60g of pH Down per 1000 litres of water.
If pH reading is 7.8-8.0, add 30g of pH Down per 1000 litres directly to the spa. 
Let water circulate for 1 hour and test again.
Foam Free (500ml)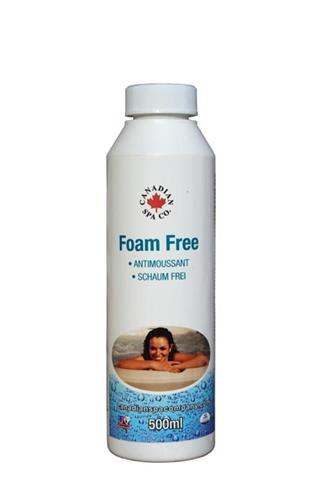 Eliminates and prevents foaming. 
A small dose of this product quickly breaks down bio-oils and impurities that cause foaming. Use Canadian Spa Foam Free to eliminate pollutants (soaps and creams) from foaming in your spa by sinking them and taking them to the filter.
Simply shake well and squirt where foam is forming to reduce and remove unsightly bubbles without having to drain and refill your spa.
Use in moderation as needed.
Test Strips (50)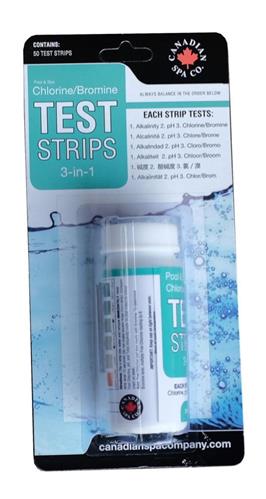 Each strip tests: Free chlorine - pH - Total Alkalinity.
A test for the most important water parameters in your pool or spa.

Directions For Use:
1. Dip a test strip in water for 5 seconds, moving it gently back and forth.
2. Remove strip. Shake once to remove drops of water.
3. Wait 15 seconds.
4. Compare the test pads with colour chart on the bottle within the next 30 seconds.

NOTE: A 10 second dip time is necessary if the water temperature is below 75ºF / 23ºC.
Download Our Free Mobile Water Test APP at the APP Store or Google Play
DELIVERY INFORMATION:
Your order will be processed. We aim to ship within 1-2 business days after receiving payment for smaller items. Larger items, including spas, may take 3-4 weeks.

Please supply a valid daytime contact number once you have purchased so that we can book a delivery slot.

The items will arrive on a pallet as a kerbside drop - the courier WILL NOT take the items into your house or garden.

We are unable to dispatch or deliver on Saturdays, Sundays, or bank holidays.

Items are shipped directly from our UK warehouses.

You may arrange to collect in person from our premises near Redhill, Surrey.

Delivery is free of charge to UK mainland post codes only. Please contact us for a delivery quote if outside this area.
WARRANTY & RETURNS
IF YOU HAVE A PROBLEM OR QUESTION REGARDING YOUR TRANSACTION, PLEASE CONTACT US BEFORE LEAVING ANY FEEDBACK. WE WILL WORK WITH YOU TO RESOLVE ANY PROBLEMS YOU MAY HAVE.
We're committed to selling high-quality products we hope you'll enjoy using, but we also know that, for one reason or another, there may be a time when you need to exchange or return something you've bought.
UNWANTED PURCHASES / YOUR RIGHT TO CANCEL
You must notify us of your intent to cancel within 7 days of the date of delivery to your address.

Returned items must be in their original and unused condition, complete with all parts, accessories, original packaging and the original invoice.

A full refund of the product cost only order will be processed.

The Buyer is responsible for return shipping costs and insurance.

FAULTY PRODUCTS
You must notify us that you are returning your order as soon as it develops a fault. You will be responsible for the return.

In the event of a fault developing within 30 days of purchase and the unit cannot be fixed under the warranty, a replacement will be sent after receipt of the returned item and verification of the fault.

Should an item become faulty after 30 days of purchase but within the stated warranty period, we will, at our discretion, offer a repair, a replacement or a cost of item refund after receipt of the returned item and verification of the fault.

If the item is not found to have a manufacturing fault, or the fault is due to customer misuse, or it has been used beyond normal usage, then no refund or exchange will be issued. The buyer will be responsible for any fees for return shipping. All replacements are subject to stock availability at the time of processing.

12 MONTH WARRANTY
---